Solutions for
BioPharma
Leverage customizable digital health solutions to provide patient heart rhythm data, anytime and anywhere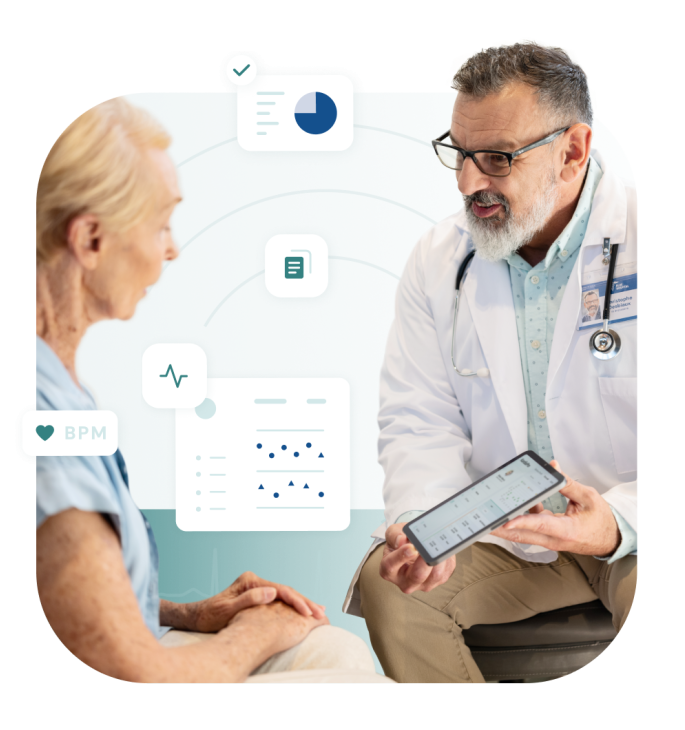 Providing specialized ECG-based digital health solutions to help our partners enable decentralized clinical trials, support digital health strategies, and remove barriers to prescribing medications that require cardiac monitoring.
R&D Solutions
Clinical Research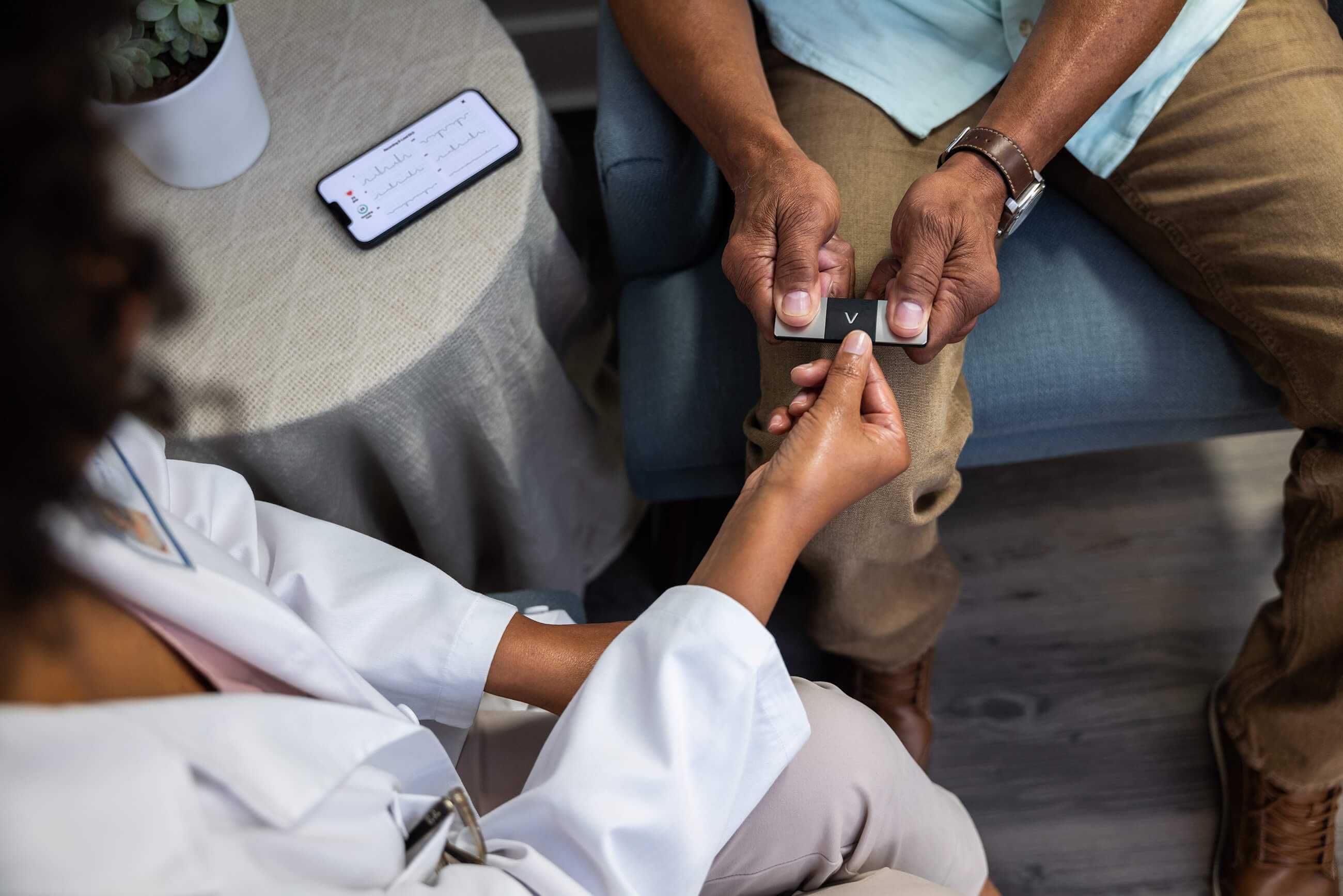 Simplicity that provides medical-grade ECG data & reduces burden
Over 80% of clinical trials do not reach their recruitment targets within their specified timeframe, creating trial delays and increased costs.1,2
We aim to change that with digital ECG solutions that support the highest caliber of clinical research. The most clinically validated personal ECG device, KardiaMobile 6L makes it easy for patients to record an ECG in 30 seconds and has demonstrated high patient adherence with mobile ECGs in clinical trials.3 Unlock access to trusted mobile heart data in decentralized, hybrid, and traditional clinical trials and streamline data analysis with EHR, API, and SDK data integration options or use our proprietary platform.
See how easy it is to use KardiaMobile 6L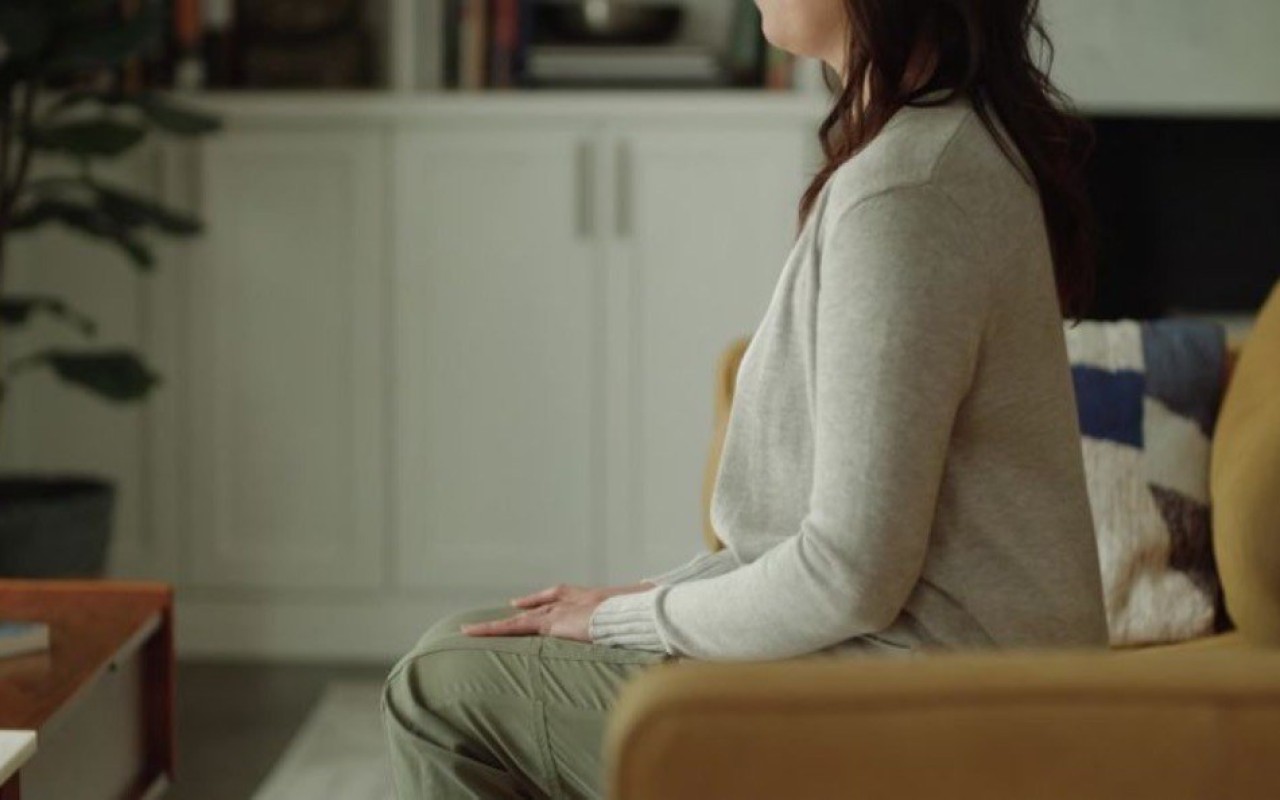 Accurate advanced determinations, including AFib, QT interval, and much more*
Proven high patient adherence with mobile ECGs in DCTs3,4
Trusted by leading global pharma companies and CROs for use in clinical research
Drive diversity in clinical trials with decentralized and hybrid trial design
Easily integrate trial data using AliveCor API and FDA-cleared SDK, or proprietary platform
Learn how KardiaMobile 6L is being used in clinical research today.
AFib Monitoring in DCT
DeTAP Study evaluated oral anticoagulation therapy for Atrial Fibrillation (Afib).
Remote monitoring of 100 participants in single-arm trial design with KardiaMobile 6L demonstrated:
Rapid recruitment (100 participants in 28 days, >300 waitlisted)
High engagement 99% ECG completion
QT Interval Monitoring in DCT
Study4 evaluated efficacy of COVID-19 treatment required cardiac safety monitoring of the QT interval.
Multi-center randomized clinical trial was fully remote, monitored the QT interval for 231 participants (3,256 ECGs), and demonstrated:
85% adherence to daily ECGs over 2 weeks
Effectiveness of digital tools (i.e. KardiaMobile 6L) to conduct rigorous, safe, fully remote clinical trials
We help you achieve your clinical research goals, quickly and cost-effectively
Commercial Solutions
Cardiac Safety Monitoring (CSM)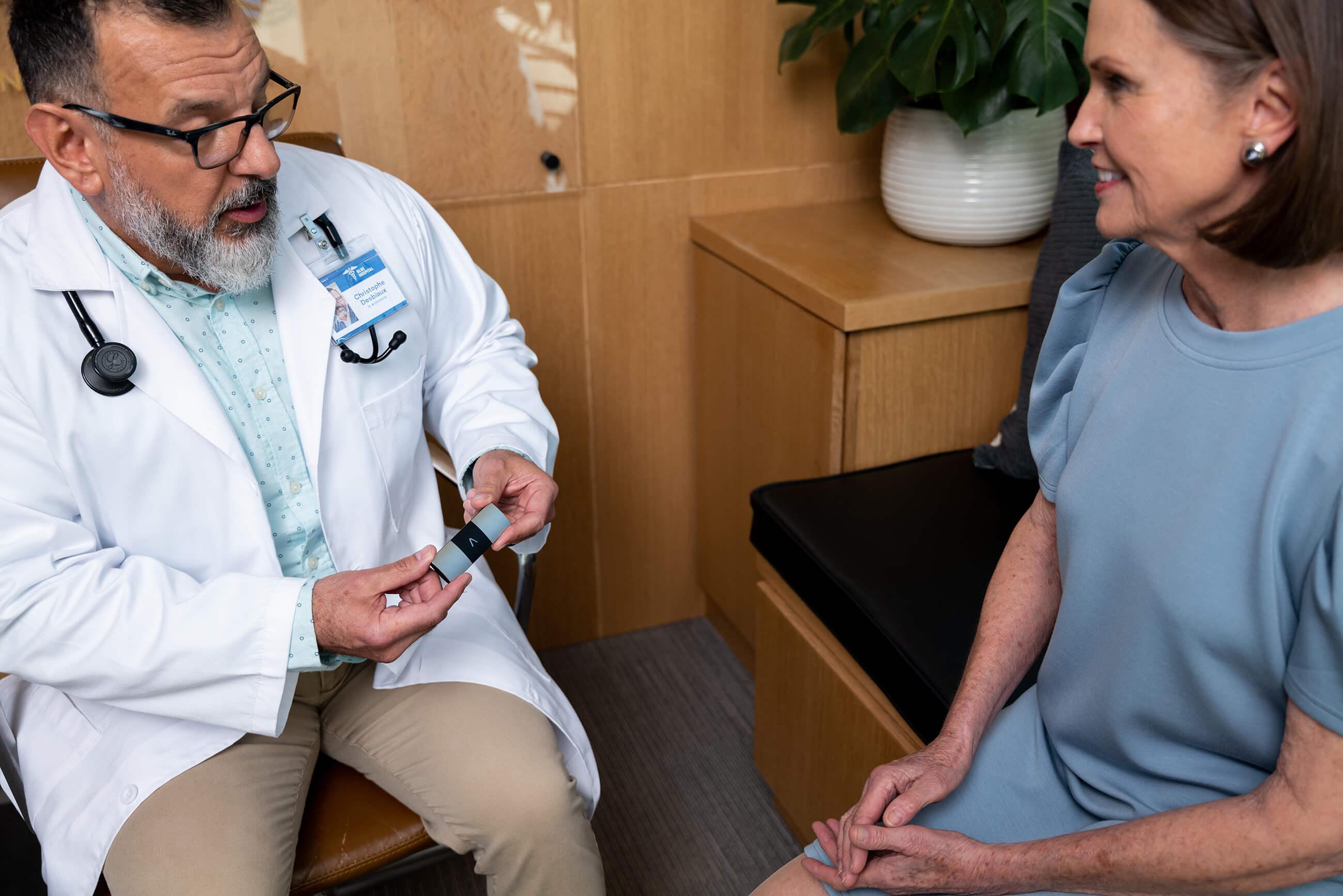 Remove barriers to prescribing medications that impact heart rhythm
Certain medications can cause cardiac arrhythmias. For example, tyrosine kinase inhibitors (TKIs) are associated with atrial fibrillation, and sphingosine 1-phosphate (S1P) receptor modulators cause QT prolongation which can lead to dangerous arrhythmias. As a result, many healthcare professionals are wary of prescribing these medications, due to the burden associated with cardiac monitoring.
AliveCor BioPharma enables streamlined, reimbursable† in-office ECG screening that provides cardiac rhythm determinations — including atrial fibrillation, bradycardia, tachycardia, PVCs and more — in just 30 seconds.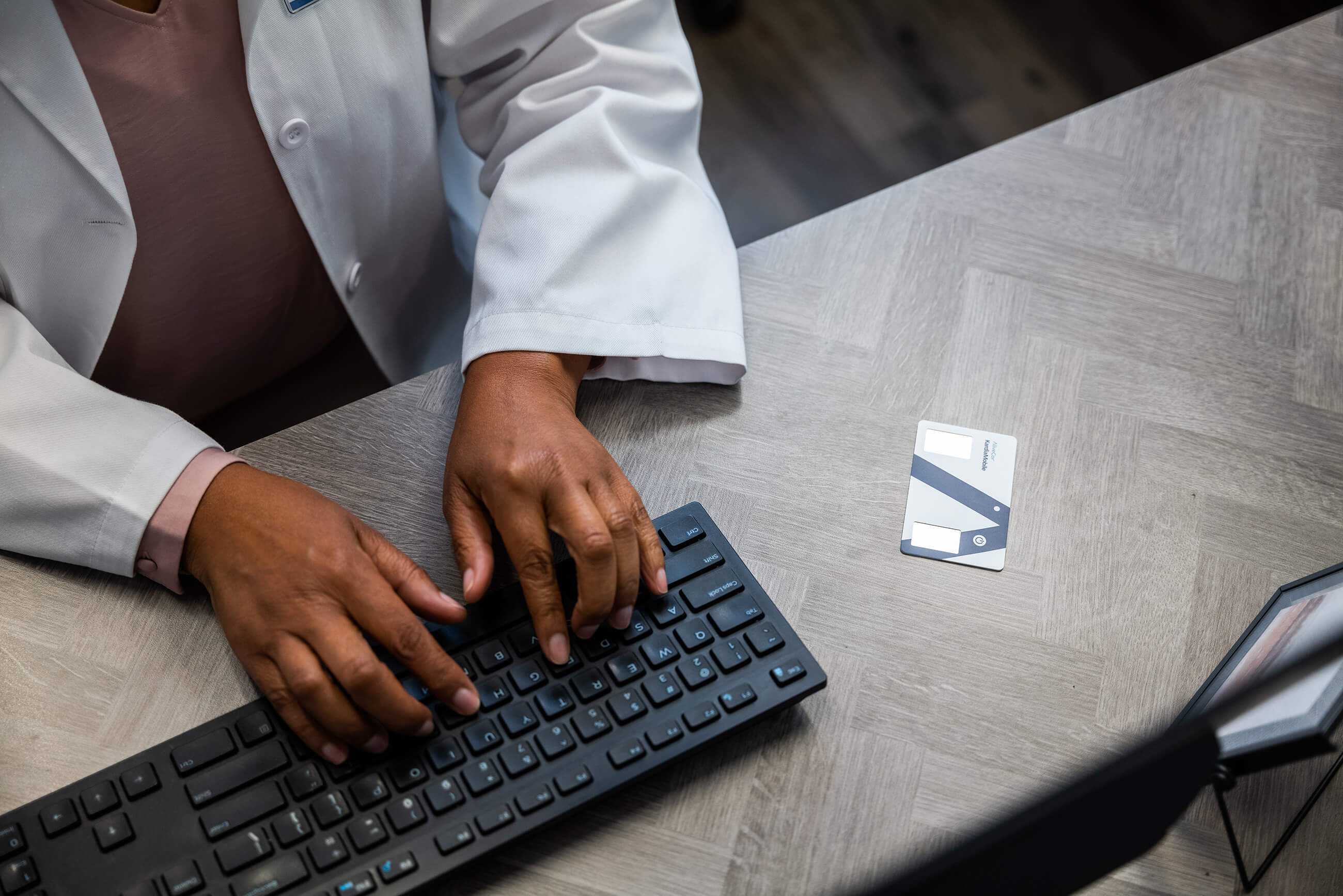 We have successfully launched U.S. and global programs that enable healthcare professionals to use both in-office and at-home monitoring to screen for and monitor cardiac arrhythmias
Benefits of becoming a CSM partner
Increase confidence among target physicians to prescribe medications that cause arrhythmias
Enable reimbursable, streamlined in-office ECGs with medical-grade results and InstantQT™ in just 30 seconds
Leverage the #1 doctor-recommended and patient-preferred personal ECG device
Provide key heart rhythm data to enable prescribing medications to appropriate patients
Enable patients to engage in their own care and eliminate unnecessary office visits by monitoring at home
Commercial Solutions
Drugs+ and Beyond the Pill Programs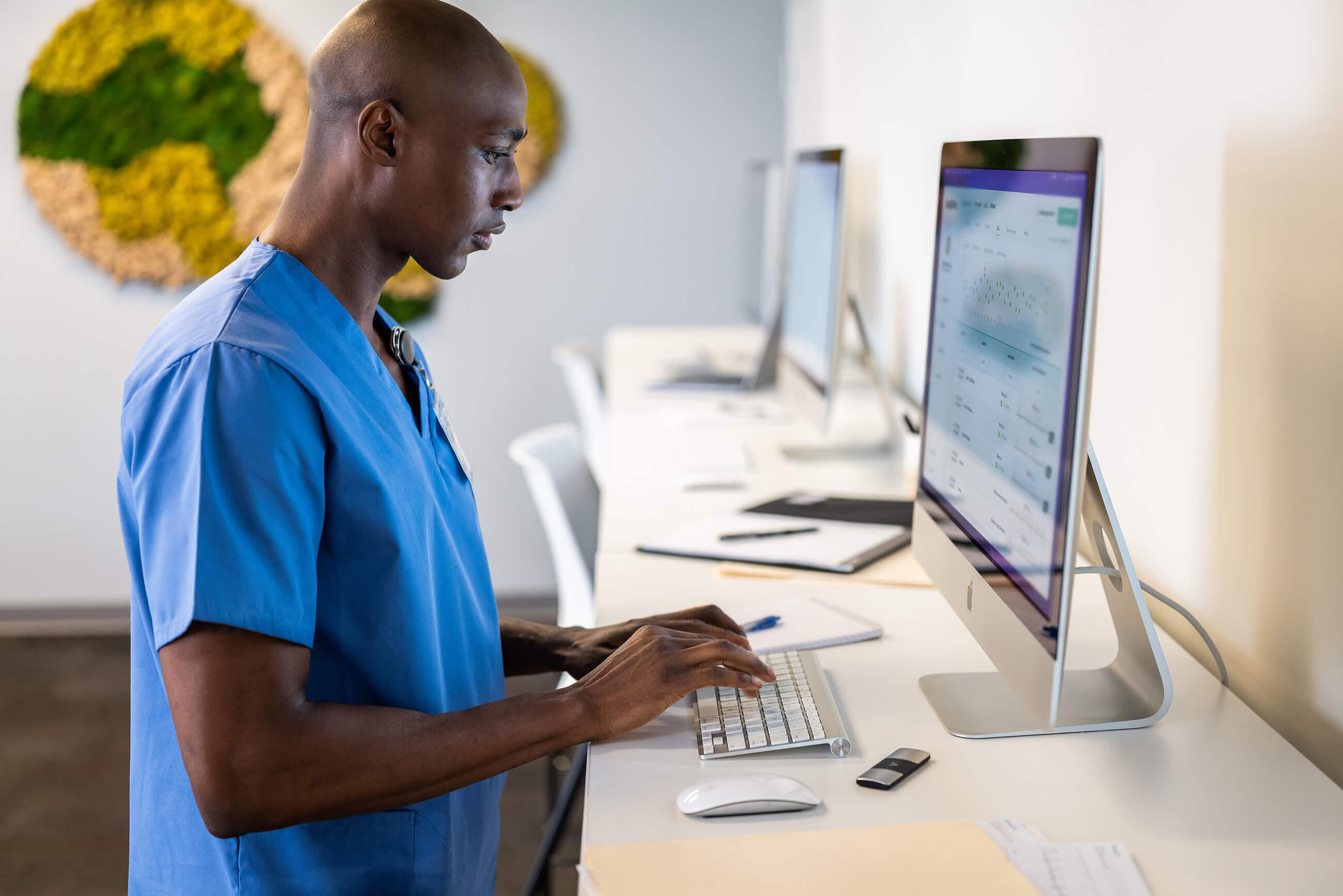 Enhance your Rx brand with innovative digital health strategies
We partner with prescription brands to develop customized digital health solutions that include virtual cardiology and remote patient monitoring platforms. Our remote monitoring devices, apps, and solutions can be used for patient screening, disease monitoring, medication management and more.
Improve Rx management with remote ECG monitoring
Leverage ECG data to develop new algorithms and conduct market research
Enable ongoing patient monitoring of cardiac conditions to improve delivery of critical medications
Screen, monitor and manage Rx safety and efficacy with remote monitoring devices, apps and services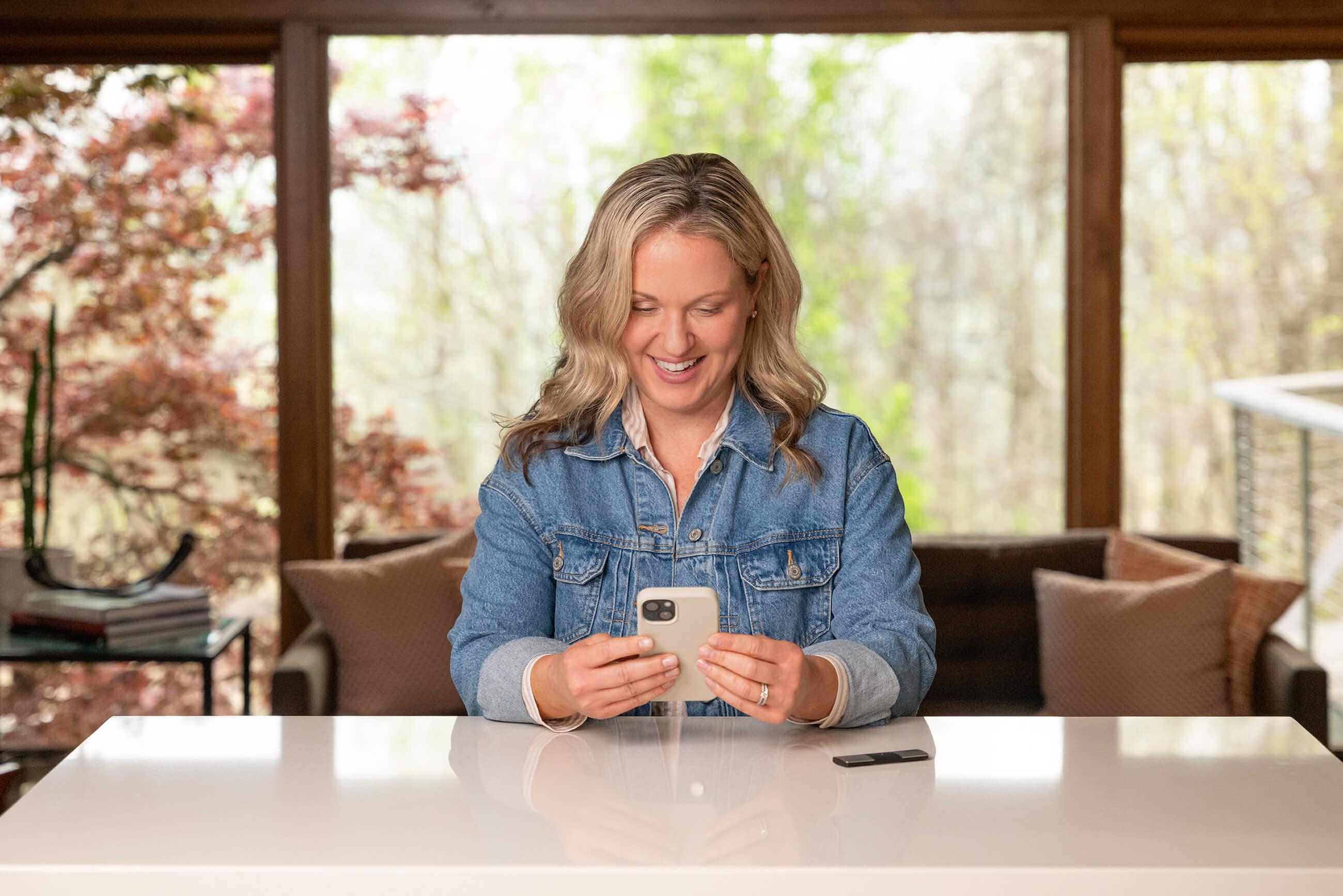 ECG Monitoring
Plug & Play Digital Tools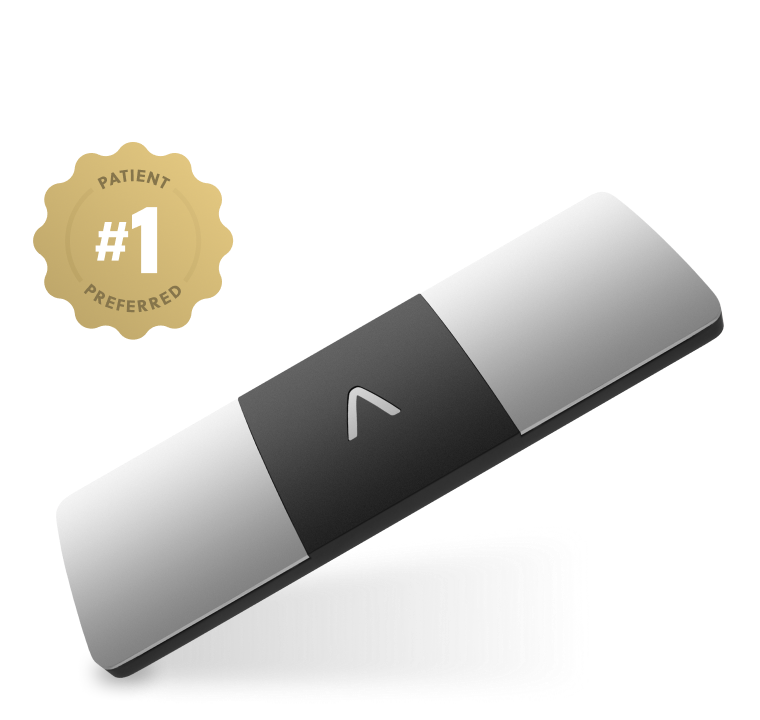 KardiaMobile® 6L
The #1 doctor-recommended and patient-preferred 6-lead personal ECG, KardiaMobile 6L is FDA-cleared to provide medical-grade heart rhythm data, anytime and anywhere. With no wires, patches or gels, the device easily captures six leads of patient heart data, either remotely or onsite.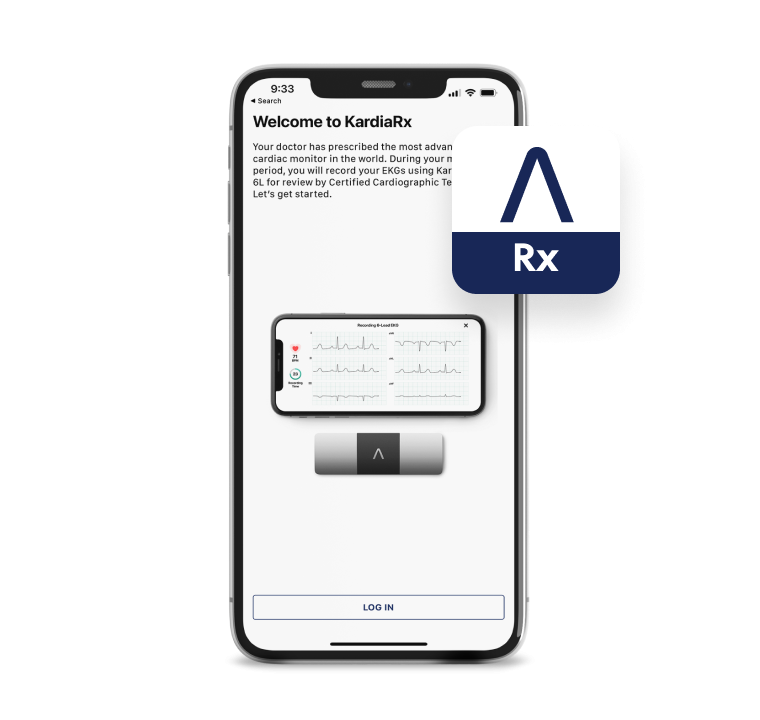 KardiaRx™
KardiaRx is an iOS/Android app which enables remote ECG capture and monitoring in decentralized clinical trials. When the app pairs with KardiaMobile 6L, patient ECGs are automatically uploaded to KardiaPro, our web-based portal, or another preferred EDC platform — for 24/7 access to critical cardiac rhythm data.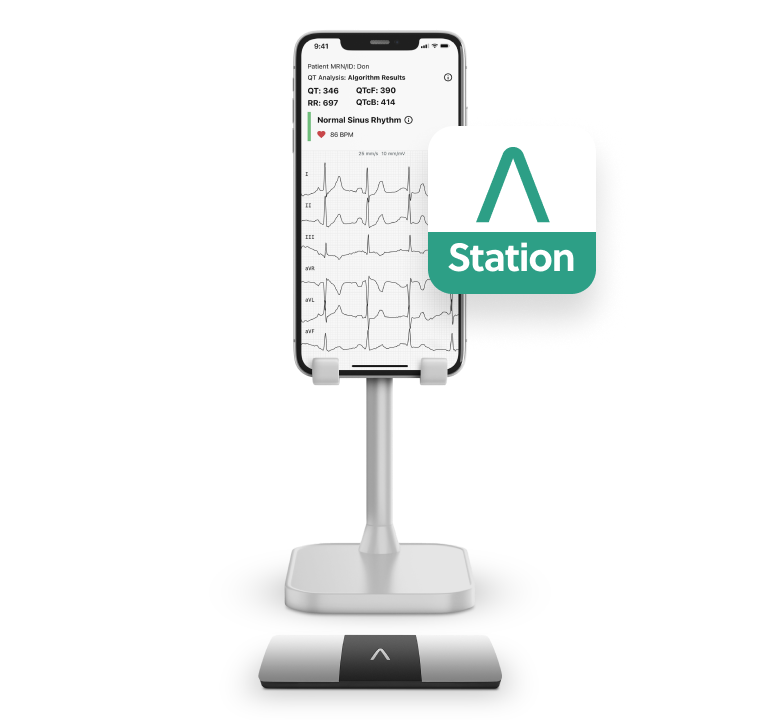 KardiaStation™
KardiaStation by AliveCor BioPharma allows healthcare professionals and clinical teams to record, store and review six leads of patient ECG data, right in their office, using KardiaMobile 6L. KardiaStation can instantly display QT interval measurements** to help physicians more confidently prescribe QT-prolonging medications.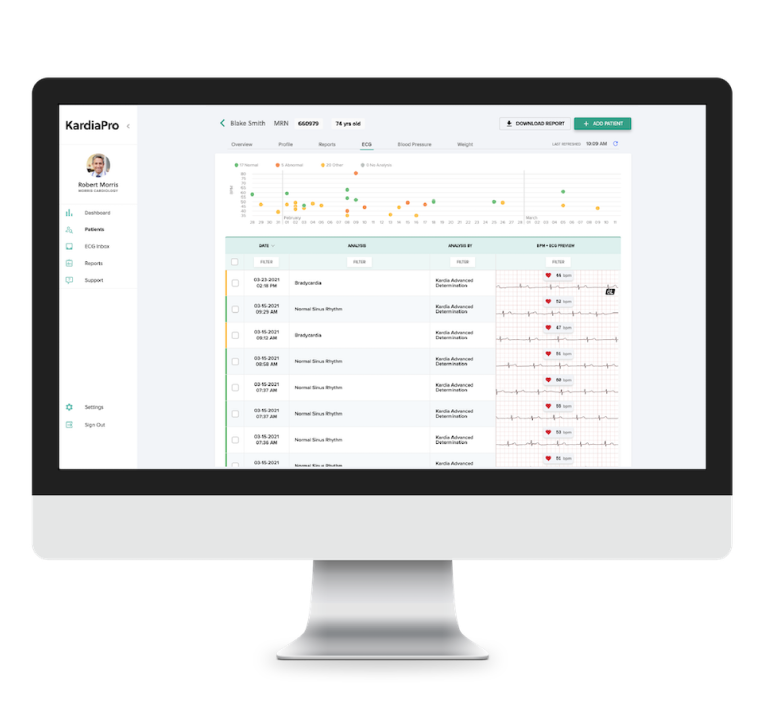 KardiaPro®
Securely manage and review ECG data captured with KardiaMobile 6L on our HIPAA-compliant, SOC-2 certified, web-based portal.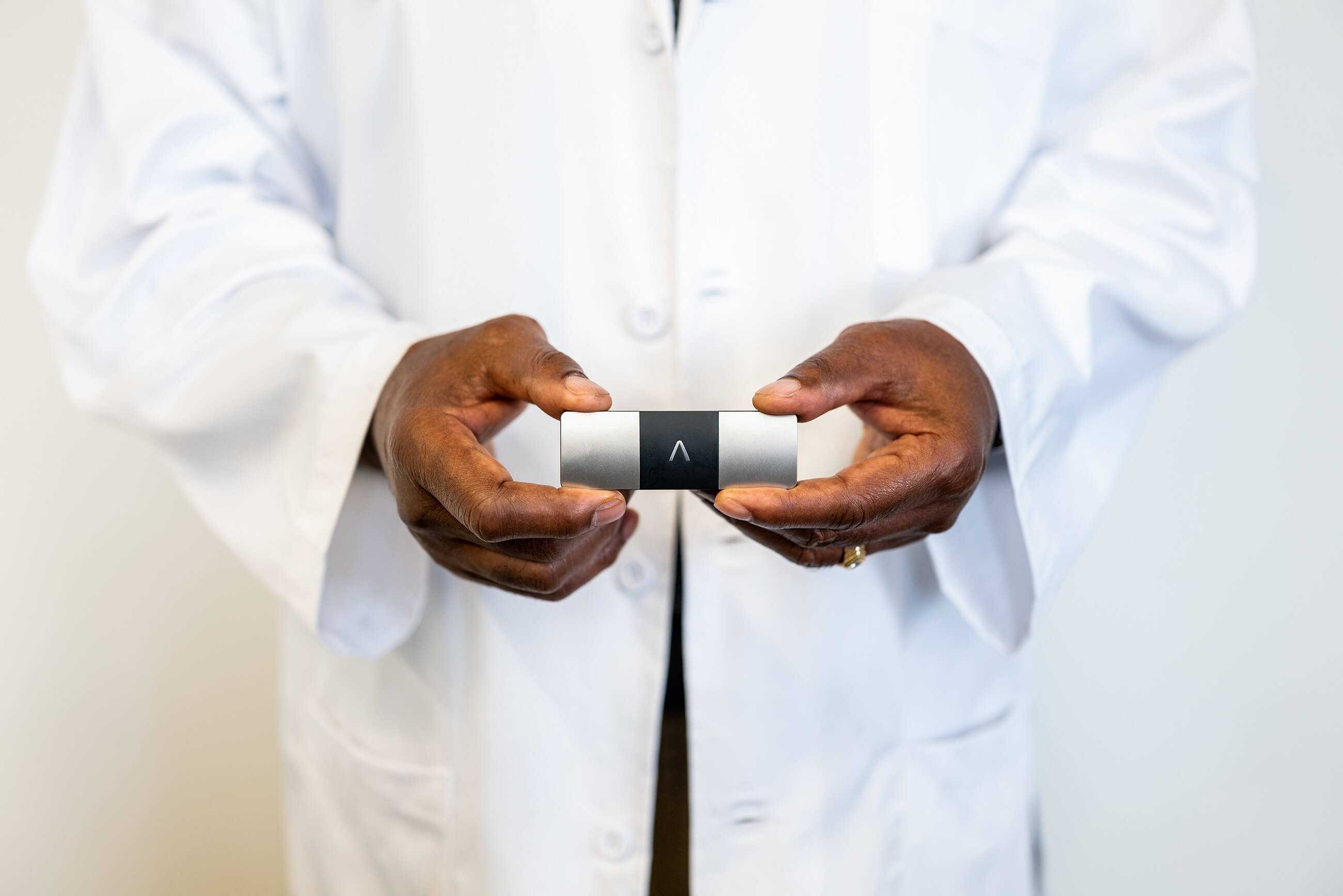 KardiaMobile 6L provides instant, automated cardiac rhythm determinations
Atrial fibrillation
Bradycardia
Tachycardia
QT/QTc/QTcF**
HR and RR
Sinus Rhythm with SVE
Sinus Rhythm with PVCs
Sinus Rhythm with Wide QRS
Our Team
Our BioPharma management team offers over 70 years of combined experience in leading Top 10 Pharma & CRO companies. And our front- and back-end engineers have the technical expertise needed to help fully support our partners across any project.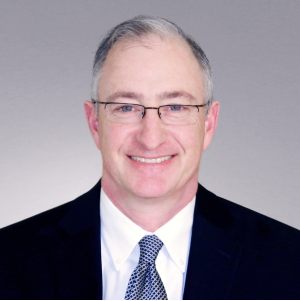 David Zied
VP, Global BioPharma Partnerships
David is an experienced pharmaceutical executive with more than 25 years in sales, marketing and operational leadership roles with several of the world's leading pharmaceutical companies, including GSK, BMS, Bayer and Eisai. After working across several therapeutic areas including neurology, mental illness, cardiology and 15+ years in oncology, David joined AliveCor from Novartis Oncology, where he was responsible for developing innovative digital solutions through strategic partnerships with startups, including AliveCor. As the VP of Global BioPharma Partnerships, David works closely with Pharma clients to develop and launch brand-focused digital solutions to enable brand growth and improve patient access worldwide.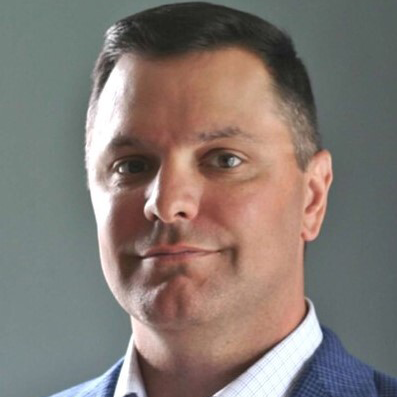 Tom Flaherty
Director, Cardiac Digital Solutions, BioPharma Sales
Tom is a highly regarded voice in the biopharma industry with extensive experience in clinical trial research and business development spanning over 20 years. With a strong background in cardiovascular and CNS, he specializes in consulting with pharmaceutical companies and CROs to implement device and biosensor strategies and integrations into their studies and clinical trials. Tom joined AliveCor after holding business development roles with prestigious, globally recognized companies focusing on clinical trial research, including Verily and Philips Healthcare. His focus and passion are to consult and partner with Pharma and CROs to utilize Alivecor's vast cardiovascular solutions and innovation to improve the patient and HCP experience within the clinical trial setting.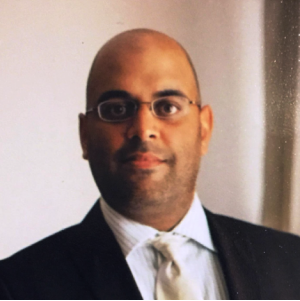 Arush Pandya
Senior Director, Global BioPharma Product Management
Arush is a Product Manager, innovator, and entrepreneur who is passionate about finding solutions to consumer-centric problems in the healthcare industry. He is currently the Senior Director of Product Management for Global BioPharma at AliveCor where he oversees development and implementation of technical solutions to enable cutting-edge ECG recording technologies for clinical trials, cardiac safety monitoring programs, and DTx programs. Arush has over 25 years of experience in the pharmaceutical industry.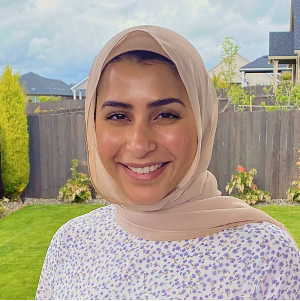 Hager Elgedawe
Global Clinical Implementation Lead
Hager is a clinical research professional with over 10 years of experience running clinical trials in oncology, hematology, and cardiothoracic surgery at nationally renowned institutions including the Seattle Cancer Care Alliance, and Columbia University. She is currently the Global Clinical Implementation Lead at Alivecor, working with institutional and industry partners to utilize Alivecor's innovative Kardiamobile 6L device in both clinical trials and post registration programs.
Partner with AliveCor BioPharma to benefit from our specialized ECG digital health solutions
Legal
*KardiaMobile 6L does not check for heart attack.
**QT measurements made using EK12 ECG algorithm.
†AliveCor makes no guarantee, promise, or direct instruction regarding billing, coverage, or reimbursement. Accurate coding and claims submission practices are the sole responsibility of the health care provider.

1. Huang GD, et al. Contemporary Clinical Trials March 2018(66) pp 74-79.
2. Chaudhari N et al. Perspect Clin Res. 2020 Apr-Jun; 11(2): 64-69.
3. Sarraju A et al. Npj Digital Medicine (2022)5:80.
4. Mayfield JJ et al. Commun Med (Lond). 2021 Dec 20;1:62.